Core XR6
XR6black5
$1,929.00
Bestseller. Test winner. World record holder.
Say hello to the new XR6. Our latest from the Universal+ Series is engineered to perform in all conditions and disciplines. It inherits the power and unbelievable wind range of the legendary XR5 while receiving measurable weight saving and handling upgrades. 
Our biggest challenge in updating a kite like our bestseller is not changing something that ain't broken. When we design a signature feel into our kites, it should continue from one generation to the next. Our customers agree and tell us they appreciate it when we don't mess with the original formula. We listened and built a kite you're gonna want to upgrade to.   
SIZES 5-6-7-8-9-10-11-12-13.5-15-17-19 - NOT ALL SIZES ARE IN STOCK SO PLEASE CONTACT US FOR AVAILABILITY OR ORDERING TIME                     
Calling all astronauts, T minus 3 to liftoff.
Say hello to ridiculous hangtime. The XR's linear responsiveness continues to deliver effortless cruising, record-breaking hangtime, and super smooth landings. After six generations, we've dialed in the characteristics regular kiters and astronauts-in-training seek. Like prodigious power. Unbelievable depower. And precise control on the water and in the air.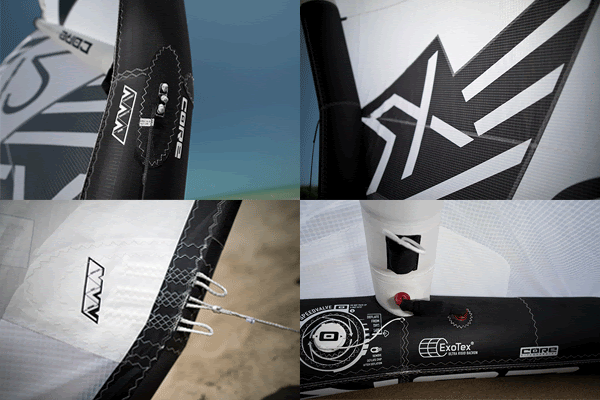 ---
---
Related Items
Ozone Alpha V2
$1,349.00
The Alpha is our performance single strut inflatable kite. It's simple, incredibly lightweight and very effective – it is a winner for any quiver. The second version offers amazing free...
---
Ozone Catalyst V3
$1,099.00
The Catalyst V3 is the kite for anyone getting into the sport or riders looking for a fun, confidence inspiring kite with ease of use at its heart. Derived from...
---
Core XR7 LW
Pre-Order $3,059.00
CORE XR7 LW Lightwind is our thing.   HIGH PERFORMANCE FREERIDE+ | FREESTYLE   More muscle. Less weight. This is the new XR7 LW. The trusty lightwind performer that brings...
---
Core XR7
Pre-Order $1,979.00
CORE XR7 Your air venture begins now.   HIGH PERFORMANCE FREERIDE+ BIG AIR | FREESTYLE | WAVE   Now's a great time to retire your hangar queen(s) and start planning...
---